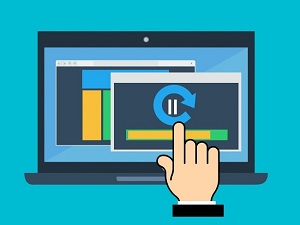 Recent Windows 10 updates have been giving the company's user base heartburn lately, with their tendency to delete files and cause at least as many problems as they solve.  If you're among the frustrated ranks, good news is on the horizon.
The company is currently readying an update that will allow you to pause the update function so that they no longer occur automatically.
To be sure, automatic updates are a good idea in principle, ensuring that your system is as safe and as protected as it can be.  The sad reality is that in the absence of automatic updates, a significant percentage of the user base would either update very sporadically or not at all, which would expose them to a whole raft of dangers.
On the flip side, the recent spate of update troubles that Windows 10 users have been experiencing have left some users terrified of system updates and the prospect of lost data or other bugs.
Enterprise users have long had an option to delay automatic updates for up to 35 days, which is a window that gives business owners and the IT professionals working for them time to assess the potential impact of any update before it is applied across the corporate network. However, home users have been left out of the equation.
In a soon to be released update (19H1), however, that will be changing.  The update is scheduled for release in April of this year and will allow users to delay updates for up to seven days.  It's a feature that Windows Insiders can already take advantage of.  If you're in the program and want to check it out, simply go to:
Settings - Update & Security - Windows Update
Once there, you'll find an option not pause the updates for up to seven days.  Kudos to Microsoft for making the feature available to home users.